Creating a new robot
Making a new robot model does not require anything beyond creating a 3D mesh in Blender (which also mean you can import existing meshes in a variety of format in Blender).
Note
Creating a realistic robot model may become more complex, especially if you want/need to use armatures to represent complex kinematic chains, or if you want to create low-poly bounding boxes for good performances when simulating collisions.
In the MORSE data directory (typically, /usr/local/share/morse/data), many 3D models are available that can be good starting points.
In our case, props/crates.blend contains 3 models of wooden box that we can use as starting point.
But first, let's create a new MORSE project.
Choose a location where you would like to store your simulation, and run:
$ morse create ranger_sim

This creates a new directory called ranger_sim, with a file called default.py, and two sub-directories: scripts/ and src/ (currently empty). scripts/ contains a sample test client, we come back to that in chapter 3.
We can straight away test our simulation:
After MORSE has loaded, it should display something similar to this: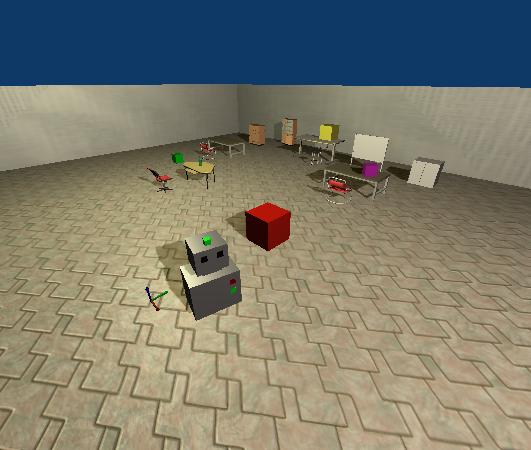 You can already move around the robot (Morsy, the MORSE mascot!) with the arrow keys, and it should create collision if you drive it to an obstacle.
Note
You can control the camera by maintaining down the Ctrl key and moving around the mouse, and with the WASD keys.
Let's now create our own robot model.
First, ask MORSE to create for us the templates for a new robot called ranger inside our ranger_sim simulation:
$ morse add robot ranger ranger_sim

This create several new files in ranger_sim/: data/ranger_sim/robots/ranger.blend contains a default mesh for our robot, src/ranger_sim/robots/ranger.py describes the behaviour of our simulated robot (currently, it does nothing particular) and src/ranger_sim/builder/robots/ranger.py describes the equipment of the Ranger. Initially, a simple motion controller and a position sensor.
To use this new robot in our simulation, open ranger_sim/default.py with your favorite editor, and replace the default robot with the Ranger: add from ranger_sim.builder.robots import Ranger at the top of your file, and replace on line 15 Morsy by Ranger. You can also remove the lines that add the motion controller, the keyboard controller and the pose sensor since these are already part of the default equipment of our robot.
The new default.py should look like that:
from morse.builder import *
from ranger_sim.builder.robots import Ranger

robot = Ranger()
robot.translate(1.0, 0.0, 0.0)

robot.add_default_interface('socket')

env = Environment('sandbox', fastmode = False)
env.set_camera_location([10.0, -10.0, 10.0])
env.set_camera_rotation([1.05, 0, 0.78])

Run again this simulation with:
You should see... no differences! The robot template created by MORSE uses the same mesh as the Morsy robot. We will fix that now.
Editing the robot mesh in Blender
Open the current default mesh of the Ranger with Blender:
$ cd ranger_sim
$ blender data/ranger_sim/robots/ranger.blend

Blender opens and should display the Morsy wireframe: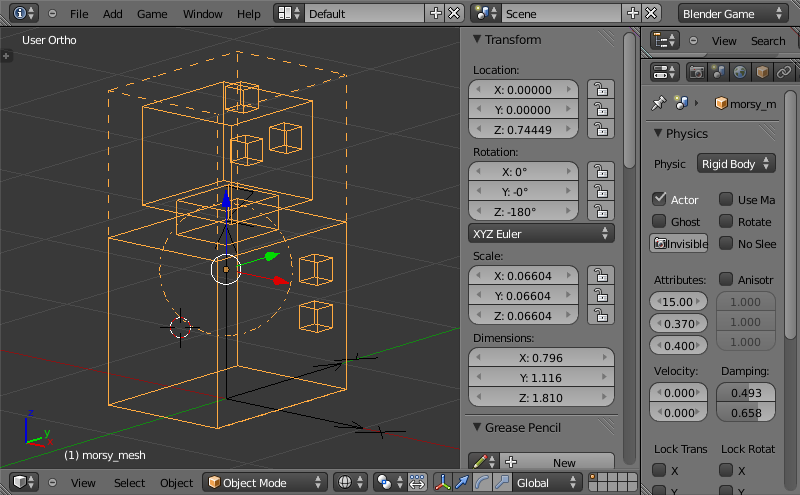 You can press z with the mouse over the 3D view to switch from the wireframe to the solid model.
Now:
Select all objects (a) and delete them (x)
File > Append, then browse to MORSE props directory (typically, /usr/local/share/morse/data/props), locate and select crates.blend
Click on Group, then small_crate, then validate by clicking on Link/Append from Library button.
If you do not see the object, check it is not on another layer:

Save your file, quit Blender, and relauch the simulation ($ morse run ranger_sim)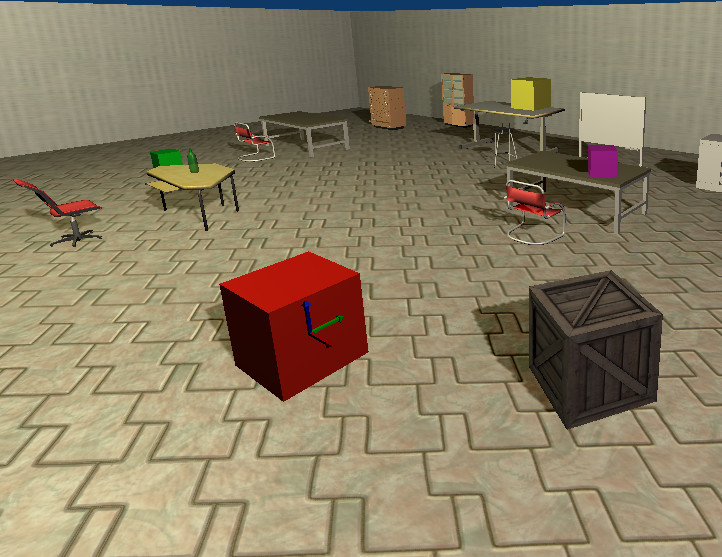 It looks better, but we can improve it even more.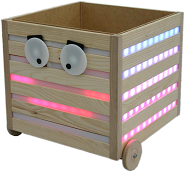 Re-open ranger.blend in Blender and follow these steps:
Select the crate (right-click on it)
Switch to Edit mode (tab)
Remove one by one the diagonal wood boards by selecting one vertex of the board, pressing l to select the connected vertices, and finally x to delete them.
Still in Edit mode, select the top face...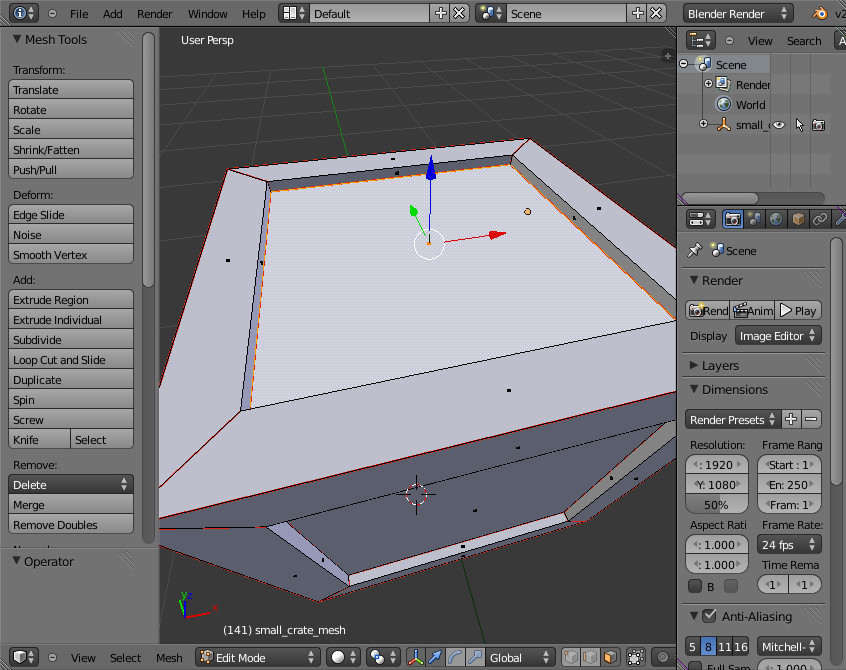 ...and extrude (e followed by z to constrain extrusion on the Z axis) it to create the inner of the box.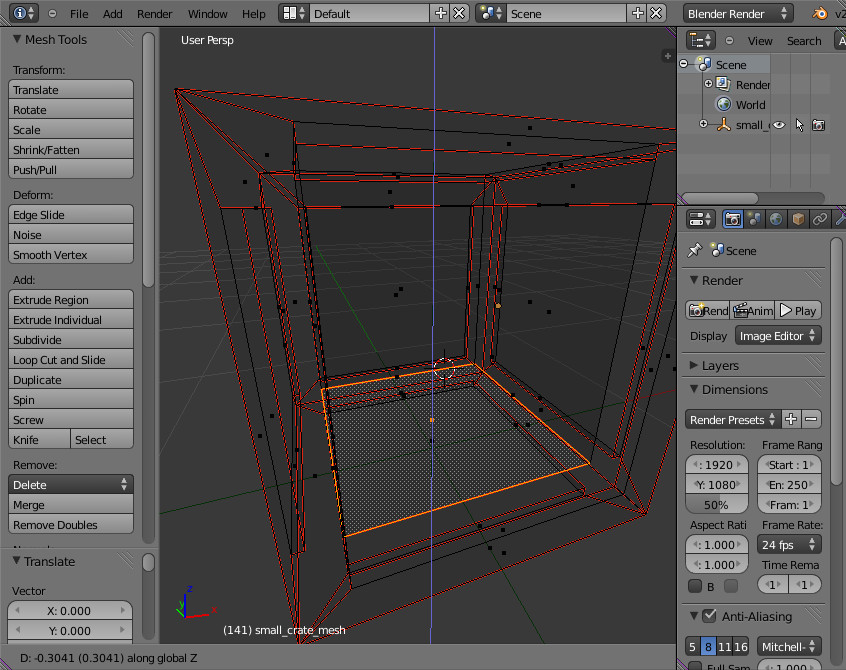 Create the eyes: leave Edit mode (tab), switch to Quad view (menu View > Toggle Quad View), and place the 3D cursor where you want to place the first eye (with a left click)
Warning
In MORSE, the X axis is the forward axis: that is not the Blender convention. You want to add eyes on the Right Ortho face in Blender interface.
Add a new cylinder (Shift + a), rotate it by 90deg on Y axis (r y 90 <return>), and scale it (s). Adjust the thickness by scaling again along the X axis (s x). Name your object right_eye (by double-clicking it in the outliner).
Open the Material panel, create a new material (with the + button), call it Eye. It should be automatically assigned to your object.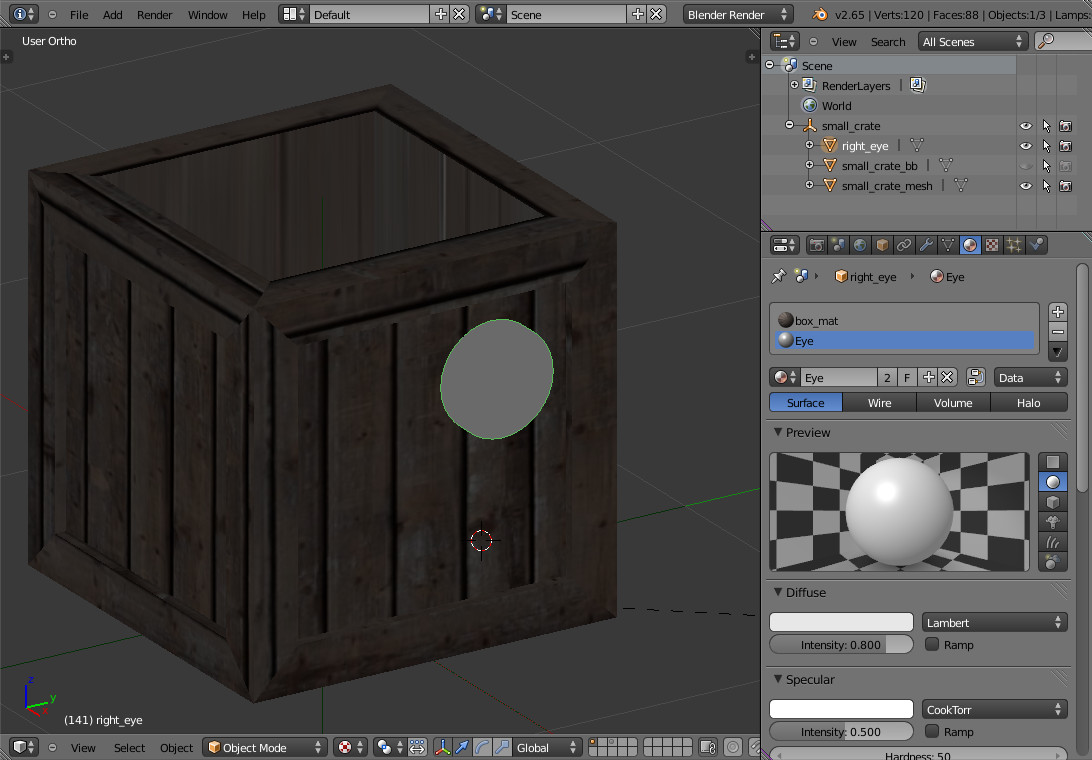 With the eye selected, switch back to Edit mode. Select all the vertices (a), and duplicate the cylinder (Shift + d). Scale it down and place it to create the pupil. Open the Material panel. Create a new material, name it Pupil, change the Diffuse color to black, and press Assign to assign it to the pupil vertices.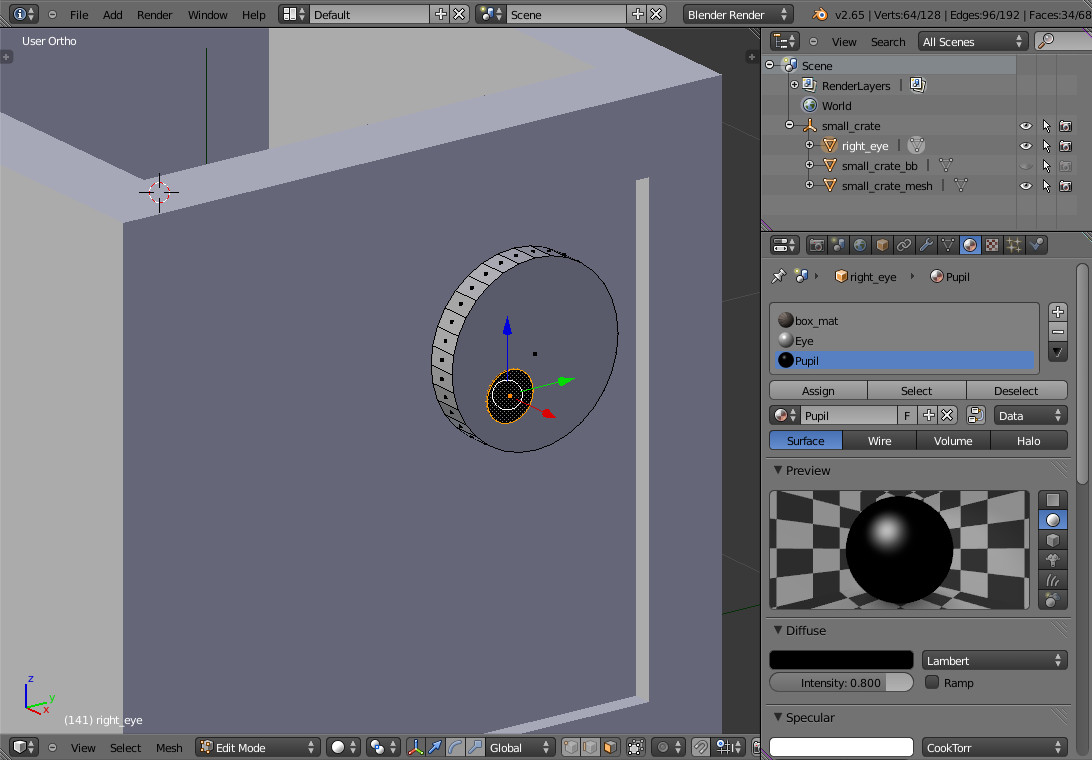 Leave the Edit mode and apply the scale transformation: Ctrl + a, then Scale. Duplicate the eye (Shift + d) and move it along the Y axis (g y).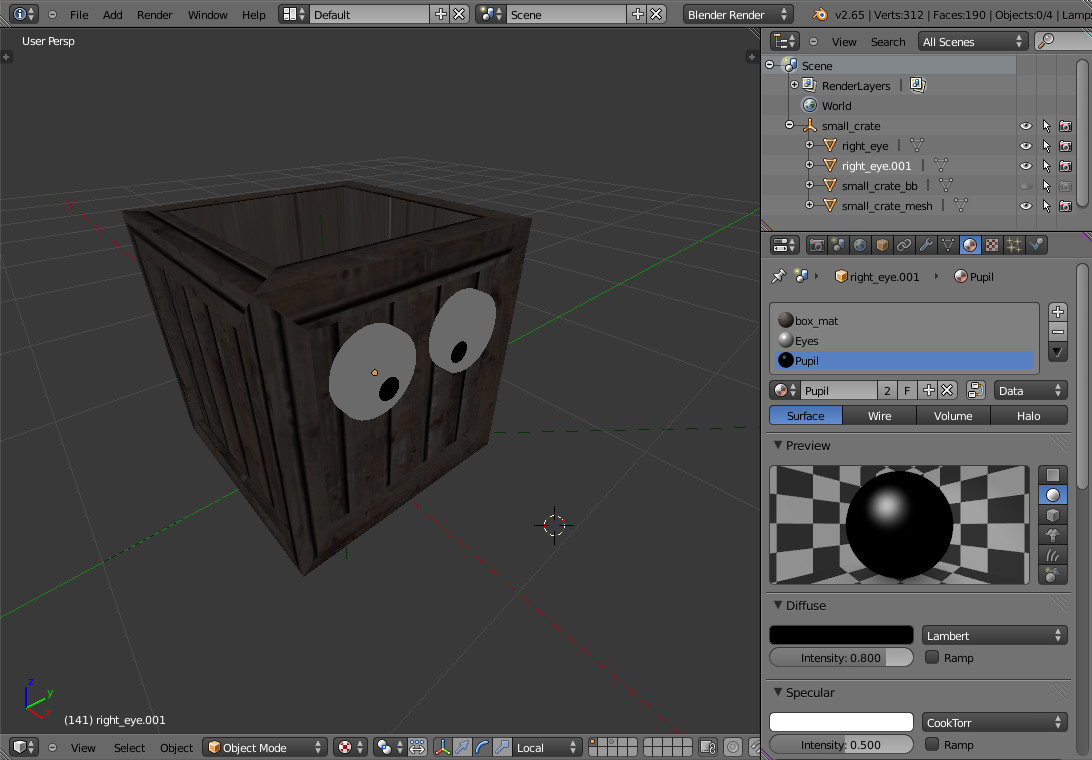 Save you file, quit Blender and run your simulation: that should be enough to start playing a bit around!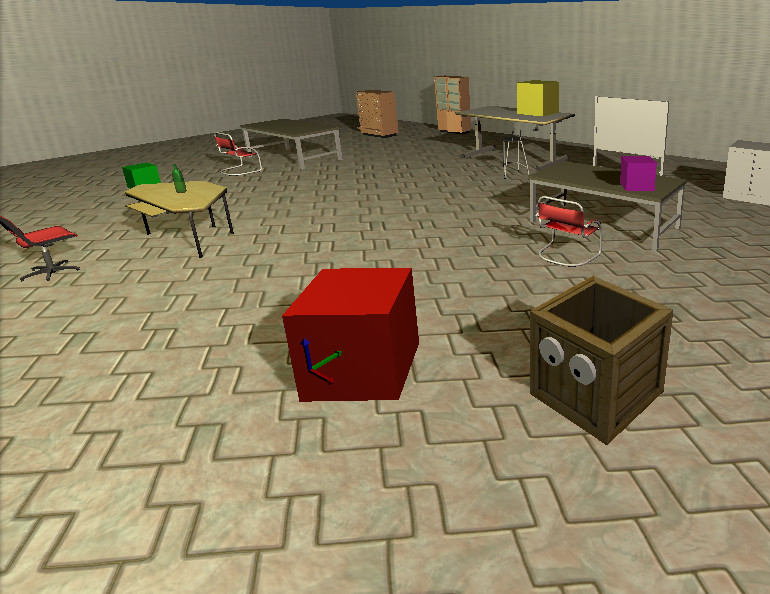 In the next chapter, we'll see how to control the movement of the robot from an external application (your robot controller), and in the following chapter, we will try to move the eyes (we will have to create a new dedicated actuator to this end).